Choose an option:
The Firm
Found Leadership provides services that help address positive change leading to superior leadership skills for individuals and teams. We deliver services through consulting, training, mentoring, and coaching. We provide
coaching and mentoring to business people in mid life and career transition;
consulting to other successful coaches by bringing processes from software product marketing to help them refine their service offerings and the markets they address, as well coaching to help them to represent themselves authentically in sales and marketing
consulting and coaching to leaders in business, both to improve interpersonal skills, as well as expand on repertoire of thinking and behaviors to create positive change in company culture
consulting, facilitation, and coaching to leadership teams through the offering of Leadership Development programs, customized to the specific needs of the corporation
Creation and implementation of customized Leadership Development Programs.
Services are delivered by the founder and the affiliates of Found Leadership
Chris Nichols, Founder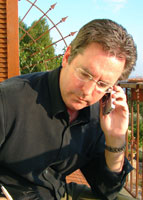 Chris Nichols has a record of helping companies and their executives succeed at personal and organizational change through leadership coaching, facilitation and consulting. He has worked for 25 years in corporate leadership of business development, product marketing, and channel transformation in both start-up and major corporations like Nortel, Ernst & Young, and Aspect Communications. Through coaching and consulting, he helped implement major change initiatives as a VP/Director at Gemini Consulting and E&Y for four years, leading to initiatives that created positive change that lasted.
Chris is trained in Evidence-Based Executive Coaching, which emphasizes the use of application of best practices drawn from theories of behavioral science, cognitive behavior psychology and other disciplines that have been researched and tested to achieve the best results in coaching environments. He draws from his management and consulting experience to apply these techniques in executive coaching. Chris specializes in working with technically gifted leaders who need to address growth and maturation of leadership behavior and styles, as well as professionals who desire to refashion their careers to better reflect interests and skills.
Results include:
Coached and consulted to executives at U.S. West, Texas Instruments, and Hewlett-Packard, and helped them to conceive of and implement three successful post-merger integration programs.
Provided coaching to leading executives at Genesys Labs and helped them to create and implement a large scale customer executive program leading to a 10% increase in revenues from existing customers.
Delivered hundreds of hours of professional coaching to both technical executives and some of the leading executive coaches in the San Francisco Bay area to address issues from leadership behavior to redefining and successfully addressing markets and solutions.
Affiliates
Jennifer Selby, Founder of Selby Group
Jennifer is a sought-after executive coach, business advisor, and speaker who has been quoted by the New York Times, the Chicago Tribune, MSNBC, The Associated Press, Yahoo! Hot Jobs, Online-Finance-Magazines.com, and the Bulletin of Psychological Type. Her style is supportive and direct.
Typical client results include:
Better business results.
Improved leadership.
Better teamwork.
Improved retention of high performers and high potentials.
Improved communication and collaboration from the executive offices through the shop floor.
Increased alignment of all people in organization around key changes and the desired outcomes of these changes.
Joe Foran
Dean Brown
Dean is a Principle and Executive Coach with Coverdale and is located in San Antonio, TX. Prior to joining Coverdale, Dean served as VP, IT Staff Development at Clear Channel Communications. Dean attended University of Texas San Antonio where he studied Business Administration - Leadership Studies and earned a Masters degree in 2005. Dean's core expertise includes Individualized development through executive coaching, group facilitation and organizational development consulting.